I remember back in Landscape Architecture school, bringing a huge thermos of coffee to Landscape Plants 201 class and fighting sleep as our professor showed hundreds of slides in a dimly lit classroom about Hardy trees and Shrubs during the dead of winter. It got so bad, Dr. Jull moved me to front row and would throw chalk at me! It was the late 90's and back then the big introduction was Knockout Shrub Roses. Who else could forget Goldflame Spirea?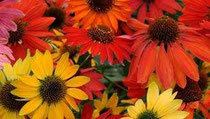 Fast forward to 2014 where horticultural innovation is moving as fast as our smart phones. We now have reblooming shrubs and flowers with such bold colors they rival any artist's paint palette. The trendy trademark names on some of these plants make us chuckle and ponder whether or not the plant comes with a birth certificate! If you have dreamed of an improvement to your favorite plant, I can guarantee there is a plant propagator somewhere in the world working on it for you.  
The amount of marketing going into these new plants is also unbelievable. Gone are the days of simply walking into your garden center and viewing the plants or seeing something unique in your neighbor's yard. Today, reality star and celebrity personalities are upselling new varieties on makeover TV shows and radio ads. Elegant plant photos are being advertised all over the internet and in your favorite magazines. Plant cultivars are being introduced and retired similar to items in the fashion industry!
In this uncertain economy, home has become both our sanctuary and vacation grounds. It is an exciting period of horticultural innovation to observe from a designer's standpoint. Embrace it or ignore it. Stand still and your design palette will become outdated.
Change can be intimidating. However, today's landscape plants are marketed with a variety of resources for success. Google a pruning question and find a YouTube video showing you how to do it. There are many great online gardening websites and forums. Snap a picture of a plant tag's QR code and get it's care instructions! The complicated world of latin botanical names and terms have been simplified for the average homeowner.  
2014 is going to be another bold color year in landscape plants and Anchors Away Garden and Gifts will embrace the horticultural innovation revolution going on around us. Reagan and I took the opportunity to go from looking at glossy magazine pictures to venturing into huge plant trial gardens in Michigan last week. It was an amazing experience that exceeded all of my expectations. Let us be your tour guides on the next few blog posts. Hopefully, you find at least one new thing that sparks your interest. Enjoy and rest assured that I will keep a few of my favorites secret so you have to stop in and visit next spring! :)